Why Use Glass Splashbacks Instead of Tiles?
If you're dreaming of renovating your kitchen or bathroom, so you need to think carefully about what sort of wall splashbacks you're going to use. There are just so many advantages of using glass splashback panels instead of ceramic tiles, and we share some of them with you in this blog.
Several years back, wall tiles became a common alternative when designing kitchens or bathrooms and are available in several types and designs.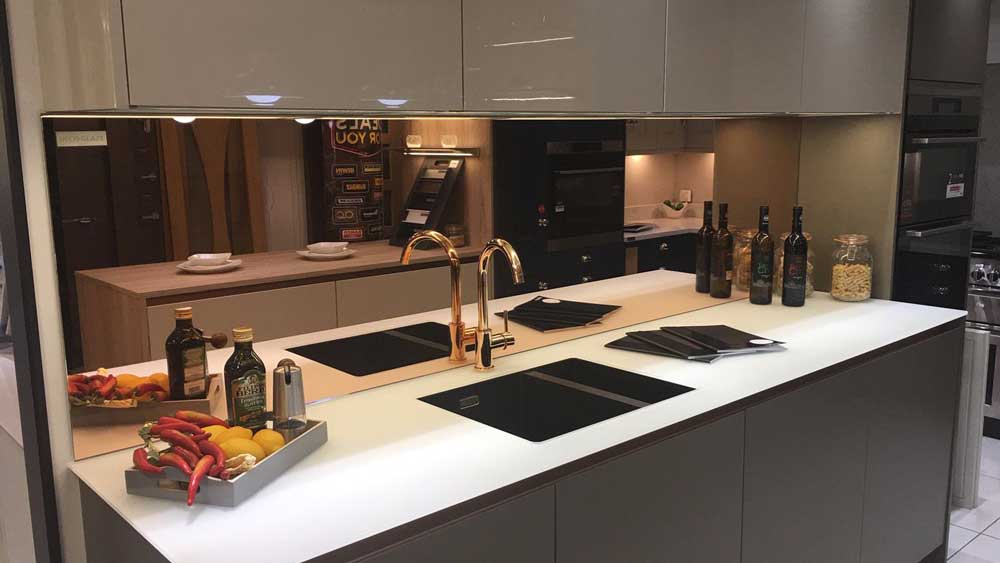 Now, glass splashbacks are in trend because they give your kitchen and bathroom a sleek look and brighten it up as glass reflects natural light. We're going to explore the key advantages and benefits of glass splashbacks over regular tiles.
Advantages of Using Glass Splashbacks Over Regular Tiles
Low Maintenance

 and More Cost-Efficient

Gives an Elegant Appearance and a Spacious Feel

Easy to Clean

Easy Fitting and Quick 

Installation Process

Easier to Change and Modify Than Tiles

Many Choices In Selecting and Customising Designs

Value and Design That Will Last Long Time

Higher Durability and Heat Resistance
Low Maintenance and More Cost-Efficient
The costs of glass splashbacks are very economical to popular homeowners, as glass is readily available. Moreover, these glass sheets' high durability prevents homeowners from paying additional maintenance costs to repair them within a few years. Simple cleaning of glass kitchen splashbacks also saves money in the upkeep of the kitchen.
Gives an Elegant Appearance and a Spacious Feel
The glass's glossy surface gives a classy look and modern touch to the entire kitchen or bathroom, regardless of the room's interior decoration. The glass splashbacks reflect light, making your room even brighter.
One of the best advantages of glass flashbacks is that they reflect light. If designed properly, it offers a spacious feel and reflects natural light into the kitchen.
Due to adequate reflected light, the kitchen is even more inviting to the family and visitors. In contrast, you never get that much reflection with wall tiles, paint, or any other materials.
Easy to Clean
Many wall tiles are textured, and limescale and grime can easily build up to make the walls look dirty, even though they're pretty smooth. All ceramic tiles are fixed with a groove that can become discoloured and grubby and grim over time.
Glass splashbacks have smooth surfaces that provide a sleek finish. This tidy surface also has many benefits for the cleanliness and hygiene of your kitchen and bathroom environment.
Simple Tips on How to Clean 

Glass Splashbacks

 in Minutes
No splashback is easier to clean than the glass ones.
All the stains created food splashes while cooking can be easily removed from the slippery glass surface, making cleaning the kitchen walls very convenient. Just take a clean damp cloth, dip it in a dishwashing liquid and warm water solution, and rub it with any stains to get rid of in a matter of minutes.
If the gas oven's flames cause a brownish stain, a mild glass cleaner is sufficient to remove the undesired mark.
Easy Fitting and Quick Installation Process
One of the great benefits of using bathroom splashback panels is that they are simple and easy to install because they can be designed to measure. Instead of placing the individual ceramic tiles on the wall and then adding the grout between them, add the adhesive to the wall and place the splashback panel exactly where it is required.
Glass splashbacks can be fitted quickly and easily. The fitting is much faster than tiling an equivalent space. For example, if you use the panels behind your shower or bath, you will typically fit both on the same day.
Large sheets are built and cut to cover your entire wall surface or panel section. Your fitter won't have to attend for as long as it suits the space. So, you're still going to save on fitting expenses.
Easier to Change and Modify Than Tiles
Our homes' design is constantly changing, so as we decorate, we need to think about the future and any adjustments that we want to make to the design.
Tiles are attached to the wall using a wet plaster in a couple of steps, plus a groove to fill the gaps. This makes it hard to remove ceramic tiles if you change your mind or want a new look. In comparison, glass splashbacks can be removed and adjusted more quickly.
The glass splashback wall panels' true beauty is that they are effortless to remove with the right tools and not damage the wall. This means that you can easily replace the panels with a new design and colour whenever you want.
Many Choices In Selecting and Customising Designs
There's an absolute versatility and abundance of options when it comes to choosing glass splashbacks to suit your kitchen and bathroom style. There are several benefits to using mirror splashbacks which we have outlined. You can choose from so many kinds of colours and finishes, including transparent acrylic and even, printed splashbacks that can show your choice images.
Splashbacks for kitchen and bathrooms can be incorporated in several different patterns, bright colours and styles, which can be customised to fit your kitchen. In this manner, house owners can select several different glass kitchen splashbacks that complement their kitchen interior colour scheme. These glass pieces can be personalized into different measurements, form, and style.
No matter your kitchen style and design preference, you can get a kitchen glass splashback that goes perfectly with it. It can also be your kitchen's main focus by further enhancing your design with some customised lights in it.
Value and Design That Will Last Long Time
Wall tiles gradually get weakened and darkened over time. Tiled surfaces are more difficult to clean as they accumulate more dirt and grime.
On the other hand, Glass splashbacks are practically stain-free and discolour-resistant and easy to clean.
Avoiding long-term wear and tear and fading ensures you don't need to regularly change your kitchen and bathroom splashbacks. It saves your time and money in the long run. Unlike regular tiles, splashbacks in the glass bathroom won't discolour. So, your bathroom's going to stay new for a lifetime.
Higher Durability and Heat Resistance
Glass splashbacks are inherently more sturdy and scratch-resistant compared to stainless steel and tiled alternatives. On top of that, glass splashbacks for the kitchen are strengthened by a sequence of stringent heating and cooling techniques. Glass splashbacks, made of toughened glass, are five times more resistant than any other splashback material.
The glass splashbacks can bear a tremendous amount of heat temperature. When properly used, heat applied to kitchen glass splashbacks resulting from cooking will not damage the product with no fading colours or materials, no cracking, warping, blackening and no safety impacts.
The Bottom Line
As our lives are getting fast-paced, so is the need for an improved kitchen and bathroom design and in our homes. Glass splashbacks work well to ensure a sense of unrestrained living, while at the same time retaining customization and design which is ideal for all styles of homes and people.
Therefore, there is no question that glass splashbacks are by far the best way to really modernize and brighten up your kitchen or bathroom and our homes in general.
Suppose you'd like to install a glass splashback for your kitchen and bathroom, contact and get in touch with a reputable splashback installation company in Melbourne and explore the choices for glass splashbacks. The wide range of options is sure to make this your next ideal choice!