Choosing the Perfect Frameless Shower Screen For Your Bathroom
If you're remodelling your bathroom, you're probably considering installing a shower screen. Frameless shower screens are very useful items that help keep your bathroom tidy and sanitary. They are also much more attractive than inexpensive shower curtains or bath screens.
Glass shower displays are no longer a one-size-fits-all option, with designs ranging from curvy and geometric forms to styles with eye-catching shiny or coloured lenses. Three experts announce the latest trends and provide advice on selecting the best theme for your bathroom.
A glass shower screen gives your bathroom a clean and uncluttered appearance, allowing the decorative elements, such as gorgeous tiles or a striking mirror, to stand out.
When searching for Frameless shower screens in Melbourne there are several factors to remember. Is architecture and beauty your highest priority? Is it the functionality, or the ease of access? According to Houzz.com.au, 48 percent of Australian homeowners above the age of 60 renovated their bathroom to have a convenient shower stall. As you will see, picking a shower screen is not as easy as it can seem.
Here are a few pointers to help shoppers like you pick the best shower screen:
5 Ways to Find the Right Shower Screen for Your Bathroom
Care about the budget.
Consider the size of your bathroom and the available capacity.
Choose high-quality glass.
Pick something that is quick to manage.
Enlist the assistance of experts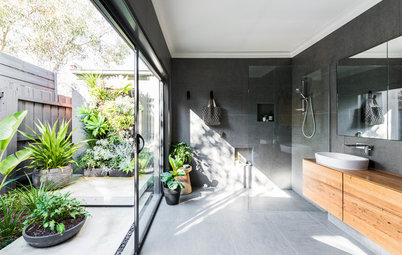 What are Frameless Shower Screens?
If you want a modern shower screen, frameless shower screens are an outstanding option. They have a contemporary look with a streamlined style to assist you in creating an elegant bathroom or shower space.
One advantage of a frameless shower inclosure is that the full clarity helps you to make the room seem larger. It will help to optimise space if you have a smaller bathroom or if there is a lack of natural light. If you want to make a point, they even look better in bigger bathrooms. Bear in mind that they are more costly than other alternatives.
Why do you go for a Frameless Shower Screen in your Bathroom?
1. There are many styles to pick from.
The tidy, sleek architecture can bring a touch of luxury to every bathroom theme. Shower screens are available in a number of designs, shades, and finishes. From a set panel at the side of your bath to a fully enclosed walk-in tub, we've got you covered.
2. Simple to set up
Since it does not need to be nailed to the wall or work together, a frameless device is simpler and faster to mount.
3. The bathroom will seem bigger.
Bathrooms are usually one of the smaller rooms in the residence. Your bathroom should be planned and built to make the most of the available space.
Creating a Budget for Your Shower Screen
When making decisions to upgrade your house, cost is still a consideration.
Choosing more conventional shower screen items is always the safest way to go if you're looking for the most economical alternative. More trendy designs may be a bit more pricey, but it's always worth it to spend a little more to get the look you want. Consider a smaller tub as well if you want to save money.
Consult Glass Frameless Shower Screen Expperts
Our glass shower screens are made of high-quality materials, are ultra-tough, and have a thickness of 10mm to insure they are self-supporting. Let us build your dream bespoke bathroom from a number of designs and finishes.
Our staff has been qualified to the highest quality expectations and can insure that you offer the best customer experience possible at all times. From design and implementation to cleanup, we will expertly project manage the whole process. We will do our utmost to cause as little damage to your home as possible when installing your screens.
Contact our friends at Famous Frameless today for a free, no-obligation quote if you want to explore the advantages of frameless glass shower screens or see future designs.